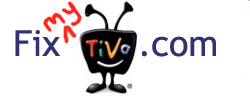 Welcome to fixmyTiVo.com!

We're huge TiVo fans and we're here to help with any TiVo problems. We can tell you if you need professional TiVo repair or if you can fix your TiVo yourself, and, if so, where to find the parts.

Our site is organized by the symptoms of a failing TiVo. So all you need to do is to follow the links on the left, which should describe pretty much any problem you could be having with a TiVo. From there, you'll get good, targeted info about your specific problem.

We're always adding new info to the site, as new problems and symptoms develop!
All information and text on fixmytivo.com is copywritten and reserved. No copies may be made or used with express written permission.