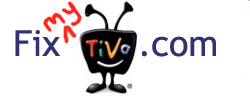 TiVo SYMPTOMS




Your TiVo: Symptoms you may be experiencing

If you have a TiVo Roamio or TiVo Roamio OTA with a loud or ineffective fan, you basically just need to replace the fan.

Fix my TiVo! - Solutions

WeaKnees sells full TiVo Roamio fan kits. These come with the necessary torx tools (8, 10, and 15). And WeaKnees has a YouTube video for installation info.

More Information about this problem

TiVo changed fan suppliers during production of these units. That tells us that TiVo found some fans to be problematic. We've found the same. Unfortunately, the fans in these units fail way too soon, and are not the easiest to replace. But the risk is, a loud fan will fail sooner due to the excess friction, and then you could really hurt your hardware. And you'll need to swap the fan then anyway, so just swap it before it fails.
All information and text on fixmytivo.com is copywritten and reserved. No copies may be made or used with express written permission.